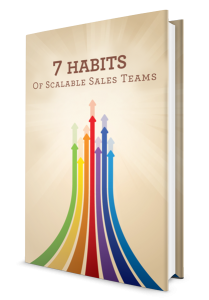 Engage an expert to assess your company's performance against the best practices outlined in the 7 Habits of Scalable Sales Teams and instantly understand where the bottlenecks are in your process. Our Lead Generation Diagnostic is the fastest way to discover the tweaks that can scale your sales.
Start seeing each salesperson's strengths in real time.
Stop making subjective changes to your sales process without the complete picture.
Reduce busy work in the sales process and maximize the time each salesperson spends with the most ready-to-buy customers.
Delight your prospects with world-class, authoritative follow up.
Fill the pipeline of every salesperson on your team.
Deliverable predictable sales that will scale your company.
The Process
You complete a very short survey to let us know who you are, how your team is structured and what technology you use (if any). Our consultants then review and schedule a one hour appointment with you—and up to three members of your team that you choose—to ask more in depth questions.
At the end of the interview, we will provide prioritized recommendations and next steps. Our experts will also be able to answer any questions you may have within the allotted time.
The diagnostic and recommendations will be captured and delivered in a digital report so that you can see what you are doing well and where you can improve.
While it is not required, it is recommended that all participants review the 7 Habits of Scalable Sales Teams eBook prior to the diagnostic process.
What to Expect
Companies that master the seven habits outlined in the process should far outperform their competitors who struggle to implement these habits. The goal of this diagnostic is to get a precise benchmark on where your company is underperforming, how mastery can be obtained within your organization and what is holding you back—such as misfit personnel, cultural bottlenecks and/or technical hurdles.
In addition to the digital diagnostic report, you should expect clear and concise action points to rapidly grow your revenue.
Our goal with the 7 Habits Diagnostic is not to dramatically change your sales process, but to reveal the slight tweaks that will multiply your results ten-fold. In fact, we back up our diagnostic with a money back guarantee if you you do not believe our recommendations will provide a 10x return on the diagnostic fee in the next 60 days.