Junior Web Developer / Production Assistant
Juicy Results helps small businesses generate leads with Internet marketing. We design websites to work with our custom WordPress framework and create landing pages, email campaigns and other deliverables required to generate leads for our clients.
We are currently looking for a technically minded overachiever who is hungry to learn in a fast moving, team-oriented environment. This is a junior level position, but you will need to learn fast.
Developers here work in Photoshop, WordPress, HTML/CSS, JavaScript and some basic PHP. Our team manages all source code and assets in a Subversion repository, and we use Apple machines with Coda, so you should be comfortable working in this environment (look it up if you aren't familiar with those terms). Junior developers will be guided and mentored by designers and developers, so you should be ready to learn a massive amount in your first year. You will also need to study and self-learn some skills and technologies to keep up.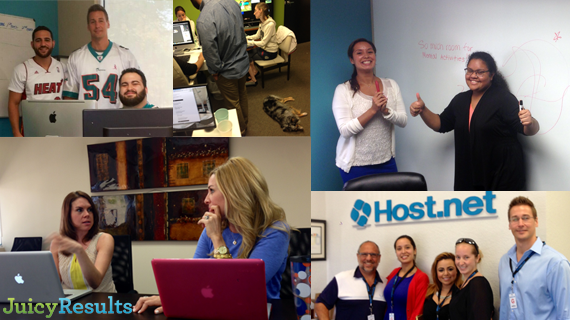 At Juicy Results, we strive to deliver friendly, fun and remarkable customer service, so attitude is extremely important for all team members. We also expect our technical staff to understand and stay on top of Internet marketing principles and trends and be able to discuss these issues with clients and team members.
Please review our company values and decide if you are a fit for our company before applying.
Responsibilities:
Assist in developing WordPress websites
Perform routine maintenance on WordPress websites
Set up development environment and other administrative tasks associated with projects
Enter and format content on web pages
License, resize, format and upload images to websites
Assist designers, developers and project managers in any way necessary to complete projects
Communicate with team members and clients about website changes and progress
Conduct client training on website management
Research new tools, technologies and trends
Respond to support tickets and provide customer support
Test websites on multiple devices, browsers and conditions and isolate and report any bugs
Ideal candidates:
Are very comfortable with web development technology
Love working with a team and building things
Have a natural affinity for communication and customer service
Have an insatiable appetite for learning
Have at least one superpower
If you feel you are a great fit for our Juicy culture and this role. Please submit your application below.