Attract high quality patients.
Your website can be an effective recruiting tool for securing the kind of patients you want to grow your medical practice. From family practices to elective procedures, affluent and upwardly mobile Americans are using the Internet to discover and research health services and professionals that they can trust.
An effective website and web presence will help you:
Attract new high quality patients
Enable your current patients to refer you
Establish trust with prospective patients
Cement referral relationships with other health care organizations
Elevate your patient experience and service levels
Juicy Results develops comprehensive packages to help small businesses take full advantage of Internet marketing opportunities. For medical practices such as family doctors, dentists, surgeons and chiropractors, the Medical Practice Website Package includes all the major tools and information you need to begin marketing your practice online.
An easy to manage website that you can update as much as you like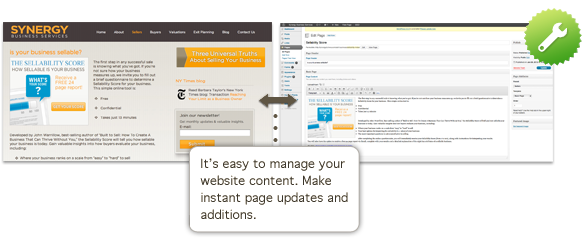 Included in all Juicy Websites
WordPress Content Management System
Expert website planning
SEO-ready, including SEO tools
Great looking, branded design
Three-month Internet marketing plan
Training
Traffic analytics package
Contact form
Access to our experts
The Juicy difference
Unlike do-it-yourself solutions, which tend to stop short at an informational website, a complete Internet marketing package is focused on using your website as a tool to grow your business. Every project includes your custom three-month marketing plan, which your staff can execute with or without our assistance.
Know who's on your website and how often