Why do YOU need a website?
No, really? The answer will vary and understanding this is key to your Internet marketing strategy and website design decisions. It's something we ask right up front so that we can shape all decisions towards your success. Whether your answer is more visibility, more leads or offline sales support, we can arm you for success.
The Juicy Results Sales Tool Website Package is our entry level solution for businesses who plan to use their website for offline sales support and brand credibility. A small business should see their website as only one crucial piece of their Internet marketing strategy, and this package will position your business for advertising campaigns, search engine optimization, social media marketing and other promotions.
Our experts understand Internet marketing, and we've designed these packages specifically for small businesses who expect results. This isn't a do-it-yourself website template like you see in the TV commercials; this is a complete package backed by expert assistance.
An easy to manage website that you can update as much as you like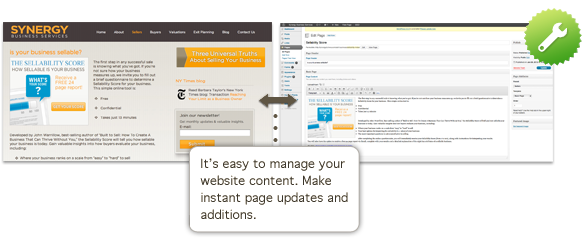 Included in all Juicy Websites
WordPress Content Management System
Expert website planning
SEO-ready, including SEO tools
Great looking, branded design
Three-month Internet marketing plan
Training
Traffic analytics package
Contact form
Access to our experts
Everything for online success.
Unlike do-it-yourself solutions, which tend to stop short at an informational website, a complete Internet marketing package is focused on using your website as a tool to grow your business. Every project includes your custom three-month marketing plan, which your staff can execute with or without our assistance.
Understand your website traffic like never before.
Google Analytics is a powerful tool when integrated into your website and configured around your goals. Your website will include this robust tracking and our experts will make sure you can get the answers you need from it to make marketing decisions. Complete the form to the right to get started.