Come to the Scalable Sales Summit
Learn how modern sales technology can help your company achieve predictable revenue in this half-day workshop.
The fastest growing companies in America know you need an edge in today's hyper-competitive marketplace. We want to show you what they are doing differently.

Based on the Framework Outlined in 7 Habits of Scalable Sales Teams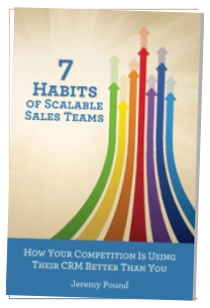 As the leader of your company's revenue growth, you know it is getting harder to attract top performing sales people and find new ways to drive growth. Jeremy has spent years diagnosing some of the fastest growing companies in America to find out not only which CRMs and other sales technology they use, but exactly how they use them.
The combination and customization of your tools is called your "sales stack." In this vendor-agnostic workshop, we will show you what is possible today and how to discover which combination will scale your sales team!
Expect to leave the workshop with:
A list of new tools to use in your sales process
A plan to create predictable revenue
Tips to get your team on board
Sign up for the Scalable Sales Summit!
---
Event Sponsors
You'll get to meet with chosen technology and service providers to fill the gaps you need to get your sales process automated and your team trained.
---
Wed, Feb 8th in Pompano Beach, FL – 8:30am-1pm
Credit card information will be encrypted and kept secure.