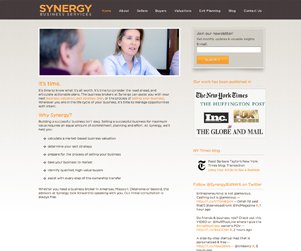 I can't say enough good things about working with the JR team! They walked me through a well-organized process, completed all deliverables to my satisfaction, and were patient with my many questions and concerns. The end result is a testament to their talent and hard work.
- Barbara Taylor
Owner — Synergy Business Services
Synergy Business Services
Synergy Business Services is a full-service business brokerage firm that emphasizes simple awareness & planning as a means to selling a business for maximum value. The Founder's entrepreneurial history includes the successful sale of no less than four of their own businesses representing an equal number of industries. Their experiences at Synergy, coupled with Barbara's national perspective as a regular contributor to the New York Times, have afforded the Synergy team a rare, highly-effective skill set. Barbara Taylor, Co-Owner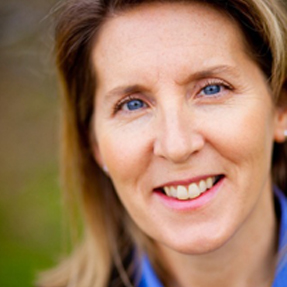 You had a website before hiring Juicy Results. What were you unhappy with and why did you decide to redesign your website.
My firm had a lovely website that was visually attractive, but had absolutely no interactivity whatsoever. As a seasoned marketer, I knew we needed a website that gave visitors plenty of opportunity to not only read about our firm's capabilities, but interact with us by downloading free content, requesting additional information or filling out a short diagnostic survey that would help them with their decision-making process. Business owners typically do a lot of research about selling a business before they engage professionals to assist them with the process. It is very likely one of the biggest financial and emotional decisions of their adult lives. We wanted to make sure we gave prospective clients content and tools on our website that would both educate them on the process in general, as well as give a feel for what it's like to work with our firm. I also wanted my website to capture as many qualified leads as possible so that I could continue to market to visitors through Email and social media efforts.
What led you to choose Juicy Results for your website upgrade?
I wanted a WordPress website, and initially looked at three other shops. They were all either out of my price range, or had creative design that wasn't up to snuff. Juicy Results was both reasonably priced, and had a gorgeous portfolio of representative work on its website. JR also understood my desire to have my website support all of my social media efforts and be integrated with CRM. You had me at HighRise (The CRM we introduced Barbara to)!
How is your new web presence different than before working with Juicy Results?
My new website still looks fantastic from a visual standpoint, but now has a call to action on every page. I can update almost all of the content myself, blog from the site, as well as capture and segment leads — none of which I was able to do before the JR redesign.
Would you recommend Juicy Results to others? If so, who can benefit from their products?
I would recommend JR to any small-business owner who needs a website that works hard and looks good while doing it. The price is entirely reasonable, and totally worth it. I am part of the "Fortune 5 million," and am thrilled that I found JR to take care of the face of my business and super-charge my most important marketing tool: our website.
Read Next Case Study