Spruce Up Your Facebook Ads: Ideas to Experiment with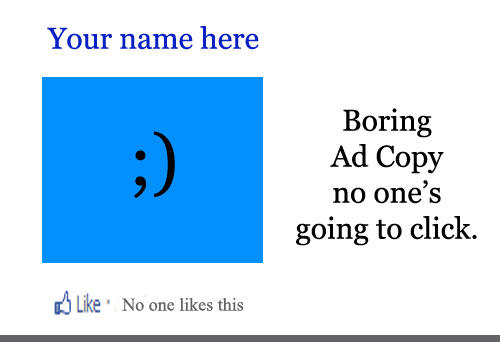 Are your Facebook ads suffering from poor performance?
Lackluster ads don't stand a chance against the constant stream of information and opinions, pictures and tags, notifications, gossip, funny kitty images and the slew of advertising that appears on a user's home screen.
There are three types of Facebook ads, and each one has its own set of restrictions, but there is a bevy of possible outcomes.
Regardless of the type of ad, you've got to be smart with how you use it. It's your advertising dollars, after all!
We've outlined a watered-down strategy for your Facebook ads. Please note that we're not talking design here. At Juicy, design is the last part of the marketing process (find out why we feel design should be the final stage). We're going to give you a taste of all the research and know-how needed in order to have successful advertising campaigns!
The three types of Facebook ads:
1. Promote an external link
If you're choosing this route, be sure to link to a really great part of your site. Don't just direct potential clickers to your home page. Choose a landing page to promote and remember to have descriptive ad copy. Experiment to see which destination produces the most quality results. Double it up with properly-setup Google Analytics to track click-throughs, time on page, bounce rate, etc.
2. Promote your own Facebook page
Be creative with your ads, and back it all up with a killer Facebook profile. Too many people have used "Like if (insert something)." Get clever. What benefits do you offer?  Sum it up in a sentence that says it all: We're cool. Like us. We offer this beneficial product/service. Have a spiffy marketing strategy that reflects your business model and will make new fans.
3. Promote a post
This is perfect for once you get a bit of notoriety. It may be challenging for a Facebook page who is working on gaining an audience to promote a post, but that doesn't mean you shouldn't try, especially if the promoted post leads to a sale or special offer. Use this paid promotion wisely and make it worth a click. Have an eye-catching photo, a pertinent link and nice reward.
Making Your Ad Stand Out
This one is easy: See what the majority of folks are doing, and head in the complete opposite direction. Take a cue from masterminds like Earl Nightingale and Warren Buffet. What the majority does is a sign of what not to do.
We suggest using a bright, vivid color to outline your ad, which really helps it pop out from the page. This tactic is surprisingly uncommon.
Example: Note how the green really highlights this fake ad against the background. Now picture it white!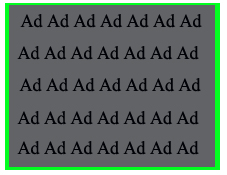 Now it's your turn.
It's easy to analyze what makes an ad great or not. Check out your home/wall. Which ads capture your attention?
See any competitors? Go to their pages and see how they compare. If you feel they have an upper hand, don't try to "one-up" them. Instead, think of a new approach, head in another direction, use something you haven't seen before.
If you're having trouble whipping up some original concepts and envisioning something you've never seen before, no worries.
Juicy's here to help!
🙂