How To Achieve Page One Domination
In our last article, I made the case that Page One Domination is a brand element you can't afford to ignore.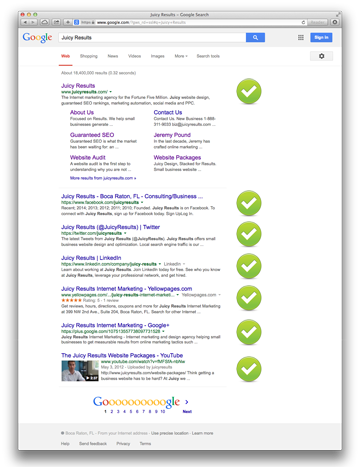 Page One Domination is the state of occupying 80% to 100% of the results on page one of search engines. These results should appear brand-consistent and contain a positive or neutral sentiment. An active and growing organization that has any kind of history will naturally leave a trail of news, reviews and promotion. If that information is not showing up to paint a picture of a thriving company, users may subconsciously wonder whether you're the kind of operation with whom they want to do business.
You can probably guess that Google is not going to list ten pages from your website on page one. This requires expanding your mindset from focusing solely on your website to building a robust web presence. Go search your company, product names and executive names.
Are you happy with the picture your prospects are finding?
If not, then we've got some exercises that will accelerate your Page One Domination! But first, a quick story to punctuate why this is so important.
This Exercise Can Lead To New Business
Every day, leads are generated and sales are made online by people who never visit that company's website. People find videos, directory listings and ads that are compelling enough to drive them to pick up the phone and call a salesperson or purchase the product on the website without doing any additional research. And, as you might expect, many of the leads your website ultimately generates originate from these same off-site mentions of your company or product. Yet we're spending the majority of our time and energy on our websites at the expense of the sites where our prospects may already be spending most of their time!
I remember when we published a press release for a new service we were offering at Juicy Results a few years back. Creating a keyword-rich press release for a new search term is a standard process for us to gain some visibility for a new service or offering. Often we will send out the press release the same week we publish the page on our website that we hope will one day rank for the new search term. On this particular occasion, the release was submitted on Friday which meant it began showing up around the web over the weekend. By Monday, I had a handful of leads who, upon calling back, told me that they had discovered the article that Yahoo had on their home page about us on Saturday!
Yahoo never wrote an article about us. What really happened was that our cleverly-crafted press made it on to page one of Yahoo for a few hours and brought us significant third-party attention. As I've said many times, the residual benefits of an effective SEO process are far and above standard search rankings.
On board now? Great. Let's dive into how to take some action on this.
Expanding Your Presence
There are a number of websites that Google prefers to serve often at the top of page one for search queries. These sites include many news and press release outfits, YouTube, SlideShare, Craigslist, business directories, review websites and many others that host, curate and gather high quality content.
You want to be on as many of these websites that are relevant to your business as possible. Be liberal in determining which are appropriate for your business; there was a day when no public company would ever consider having a presence on YouTube!
How To Exercise: Quickly Multiply your Web Presence
Make a list of companies or websites similar to yours. This should start with competitors and expand to includes companies similar to yours but in different areas or industries. Start googling the names of each company (or their branded product names) and make a list of all of the websites—excluding their own company sites—that show up on the first few pages. Start a spreadsheet and begin to list the unique websites in the first column.
As an example here are the websites that appear on the the first few result pages for the search term "Juicy Results."
Twitter
LinkedIn
YellowPages.com
Google+
YouTube
Bloombery
Quora
Multiple Local Media Outlets
Pinterest
Boca Raton Chamber of Commerce
Finance.Yahoo.com (press release)
Business Week
Slideshare
Super Pages
Job Listing Websites
Web Design Directories
Review your compiled list from the exercise above. You will see some opportunities that you have direct control over and some that you have indirect influence over. By direct control, I mean someone within your organization could go to that website right now and upload content, create a profile, purchase a listing or conduct some other activity that would ensure your company or products show up on that website. The sites that you have influence over will be the press release syndication websites, review websites, media outlets and blogs that cover your industry or products. With some concerted effort, your company stands a good chance of earning a mention on those websites.
Go ahead and denote each of the websites in your spreadsheets as direct or indirect opportunities where possible. When we cover indirect opportunities in this exercise, we want to reserve that label for websites that a little work will stand a good chance of getting us on that domain.
However, there may be many websites on your list that would require substantial effort, influence and/or luck to earn a mention on that property. Large media outlets, research websites and government websites stand out as examples. We're going to focus on the low hanging fruit for now so let's exclude those from our list.
Examples of Direct Opportunities:
Examples of Indirect Opportunities:
Media outlets that appear to syndicate press release
Review websites
Industry magazines or blogs with accessible authors or editors
Business directories
Social media websites where you can create public profiles
Content publishing websites that allow for user generated content
If you've been online for a while, it's likely that your company is already on these websites. There is a quick way to determine if you have indexed content on any other domain. Go to the Google search box and type in your company or product brand followed by "site:" and the domain you want to check. For example:
Juicy Results site:linkedin.com
"Juicy Results" site:slideshare.net

Google will limit your search to only results on that domain. You'll either get results or you won't. If you're getting too many results that are not for your brand, place the brand within double quotes, which limits the search to exact matches ("juicy results").
You can eliminate or gray out any of the rows in the spreadsheet that you already exist on unless you want to improve the result that you found on any given domain.
Now, you've got a list of the sites to go to work on. I suggest entering the tactic you will use for each linking opportunity and then assign and schedule them all out.

Completing this exercise is going to expand your visibility—how much depends on your size of your web presence when you begin. An expanded web presence is going to provide a number of benefits to your search engine optimization efforts.
You will have increased your online visibility, which means you can be discovered in more places by more people.
Your domain authority and online citations should increase (see section I on how Google ranks pages).
You will have taken the first step to Page One Domination for your brand.
Starter Checklist For Page One Domination
There will always be new websites, directories and social media sites that may be relevant to your customer base and business. This checklist is meant as a starting place for building out your branded web presence.
Social Media Sites
Business Directories
Content Publishing
LinkedIn
Twitter
Facebook
Quora
Pinterest
Google+
Instagram
Flickr
Vine
Meetup
About.me
Manta
Yahoo Local
Yelp
Merchant Circle
YellowPages.com
YellowBook
Superpages
Citysearch
Local.com
Mojopages
Slideshare
YouTube
Vimeo
Tumblr
iTunes
To recap the process:
Step 1: Brainstorm a list of competitors or similar companies
Step 2: Google each and build your opportunity spreadsheet
Step 3: Add in relevant sites from the Starter Checklist
Step 4: Assign and schedule a few sites each week until you've knocked them all out
And, remember that you may want to do this for all branded product names and key executives.
You'll be on your way to Page One Domination in no time!

. . .
This blog post was adapted from The Bootstrapper's Guide to SEO.