Advanced Keyword Selection for Websites with Existing Rankings
Many times a company decides to restart their SEO efforts after taking a break from actively focusing on their rankings. Companies can lose momentum due to employee turnover or marketing cutbacks or they may simply decide that their current vendor needs to be replaced.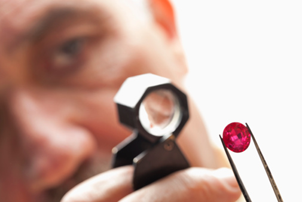 No matter where you are in the process, no SEO effort should begin (or reset) without strategically deciding which keywords you want to rank for. Always define success in advance.
Additionally, If you already have a decent presence in search engines, then we recommend one very useful step to the basic process of keyword identification.
There are two reasons for this additional step:
You have the fortune of data on your side. That means you may discover new keywords previously not considered and/or you may be able to learn which keywords have actually brought you new customers.
Your priorities should be shaped by where you are today.
The rest of this article is going to focus on the latter and help you prioritize your SEO efforts.
Grab the low hanging fruit
Based on this study on click-through rates and the general belief in the SEO industry that a web page will receive more traffic the higher it ranks on page one, you can assume that moving a current ranking from page two of the search results to page one, or from low on page one to a top position (1 – 5) will bring you more business. In fact, that referenced study claims that over 67% of all clicks go to the top five results in Google.
Most business owners and marketing directors I meet are surprised when I show them the keywords they rank for on page two or three of Google. Understandably, they tend to have a binary view of their search presence—the web page either shows up on page one or it doesn't rank at all. But they may be inches from striking gold without even knowing it.
The argument for paying attention to rankings on other pages is this: knowing where you are today helps you create an actionable plan for getting to where you want to be!
Whenever we take on a new SEO account at Juicy Results, I immediately look for what I call the low hanging fruit. What are the highest searched keywords that this company ranks low on page one or anywhere on page two for. There is a strong chance that we can find a quicker return on investment by pushing those rankings up than by starting from scratch on a new keyword. Of course, it is critical that this keyword makes business sense for the company at this point in time. Sometimes, what appears to be low hanging fruit is really a product they no longer sell or a feature few customers care about anymore.
Identify The Keywords You Rank For
Google offers a free tool called Google Webmaster Tools which gives the owner of any website insight on how Google sees their website. Before you can conduct this exercise, you will need to authenticate your website with Google to prove that you are the owner.
One of the most useful tools can be found under Search Traffic > Search Queries.
Within this section, you can simply download all keywords that you rank for, or you can review the data to learn how many impressions and clicks that keyword is bringing you. Impressions are the number of times any page on your website shows up for an actual search.
I like to sort the queries by highest impression, then find keywords that show up in average positions lower than five. In the screenshot of queries for Juicy Results, you can see that "seo results" is a term that we are receiving a high number of impressions for, but that is resulting in very few clicks. I have the luxury of a MOZ account that can tell me where any domain ranks for a keyword. MOZ tells me that JuicyResults.com ranks #12 for "seo results." That's right at the top of page two, which is exactly the kind of low hanging fruit I was looking for!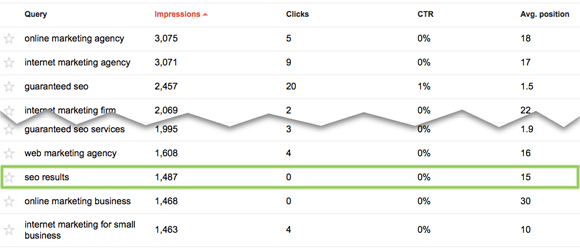 Checking Webmaster Tools again, I see that out of 1,487 impressions our website received how many clicks?! Zero?! That's right, a big fat goose egg. Getting 1% of that traffic would have brought me 15 targeted visitors in the last 30 days alone. I want to use the following questions to determine if this new keyword is worth our time and effort:
Does this keyword makes business sense? Yes, people searching for SEO results are likely to be shopping for an SEO firm that guaranteed results.
Is a page one ranking obtainable? Yes, we are currently in spot twelve (page 2 of Google) with a landing page that is poorly matched for that keyword. Heck, our company name and domain actually include part of this keyword ("results"). I believe creating a perfect match content page for the keyword and linking to it from the currently ranked page will land us a sweet new page one ranking.
Scaling This Approach
I have included this example to illustrate the thought process we use to identify new targets for a mature SEO campaign. However, you may be interested in doing this at a more macro level rather than manually looking at them one at a time. Once you have generated a complete list of keywords that you feel are a good fit for your SEO campaign, we want to see where you currently rank for all of these keywords before you begin.
There are two ways we use to benchmark current rankings at Juicy Results, but both require paid tools.
You can create a campaign within MOZ, and load all of your keywords. The rankings can take up to one week to show up.
You can create an SEM Rush campaign in a similar way, and the rankings will be available the same day.
If you are considering hiring an SEO firm, they should be able to provide you with this information during the sales or discovery process.
Once you have all of your rankings, download them to a spreadsheet and sort them by current rank. The sweet spot—or low hanging fruit—are the rankings in spots between 6 and 30 that have the highest search volume and best match your customer's needs.
The keywords identified through this process should be your initial SEO targets that you focus on.