5 things I learned at WordCamp Miami 2011
Klaus and I traveled to Miami last weekend  to attend WordCamp Miami 2011, where Klaus spoke and I LEARNED! Aside from not having internet at our hotel for 5 hours the night before, we had a very fun & productive trip.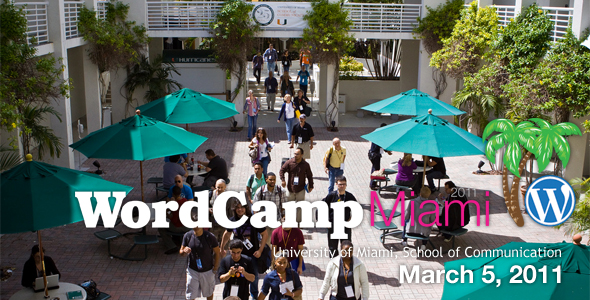 I learned lots from great people, but I'm going to list the Top 5 Useful Things I Learned at WordCamp Miami '11
1: Back up your stuff!
We're pretty thorough about keeping our theme files and plugins backed up, but the elusive database can cause some issues if something breaks! In case you don't know, the database stores all of your website's information, including pages and blog posts. We use WordPress Database Backup. Sure, you will get an email EVERY DAY with a backup of your database, but it beats losing months or even years of blog posts.
2: Clean up your backend!
I don't mean practicing good hygiene. That's a struggle enough for us developers. It's very important to keep the WordPress admin area free of unnecessary panels that the end-user (client) doesn't have to use. If you're not familiar with a system, it's hard enough to get used to it, let alone having a bazillion things in your face that you might never use.
Tammy Hart Designs: 'Don't Forget the Milk' presentation hit on this quite well.
3: Performance is key
Tony Gemayel from Two Giraffes had a great session regarding performance and optimization. I definitely came close to an optimized page before but not like this. The most important thing I could take away was "Think Milliseconds". A few plugins and tools to use.
I know some of those aren't wordpress plugins but good to include.
4: UX Flight Check
This portion really goes for any website or blog design but this was an excellent presentation from Jeremy Harrington. Here's the checklist:
Blog Archive
Sharing tools
Permalink structure
Permalinked elements
Pagination / Next & Prev buttons
Number of posts (if you have a lot of posts)
Featured Posts
Single Post
Comment gravatars

Links to comment author

Author comment coloring

Pagination (next / prev post)

Threading (comments for comments)

Discussion beyond blog
5: Plugins, Plugins, Plugins
If there was one recurring topic it was the plugins. "Should I use plugins?" "What are some good plugins?" "Are plugins safe?" "Why do plugins break?" "How do I find out if a plugin is any good?"
When choosing a plugin, there are two things to look for: Version Number & Ratings.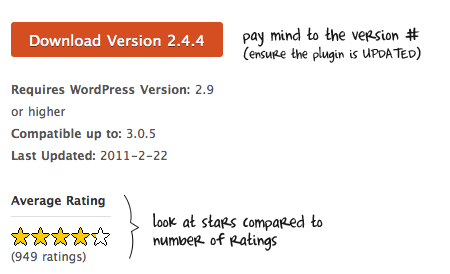 I could list out all of my favorite plugins but perhaps that's for my next post. Just remember, be mindful of what plugins you install. If a plugin has a low rating or hasn't been updated in a few years it has serious potential to break your blog!
In Closing…
Wordcamp Miami was a wonderful event that had extremely useful information for all levels of users, from beginners to WP All-Stars. David Bisset did an excellent job putting on this event and I can't wait for WordCamp Orlando sometime in December!
The best part? I got a totally awesome shirt.