The Phone Book is Dead. Long Live Local Online Search. (Part 1)
Everyone's talking about it but are you, as a business owner, paying attention to it? I'm talking about Local Search or Local SEO (Search Engine Optimization).
With cities around the country saying good-bye to the real White Pages, the real Yellow Pages and other hard printed directories can't be far behind. When was the last time you chose a phone book over say, Google?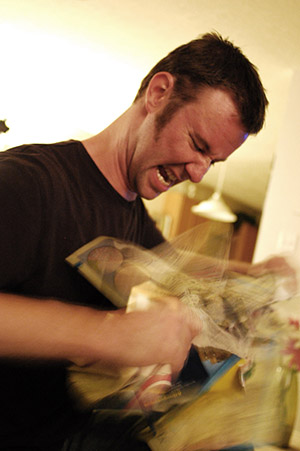 I remember the exact day I did my last flip through the yellow pages—Jan 1, 2009 when my AC unit blew. I was forced to the pages because my ONLINE search proved fruitless.
A lot has changed in two years.
If your business has been around for any real length of time, it is a sure bet people can already find you on the web courtesy of the gazillion online directories, many of which are fed by a few key players.
Your business info is out there but WHO is in control of it? Is it correct? Outdated? Optimized for search?
Local online search is more important than ever
A few weeks ago we posted 5 Ways to Improve your Online Business Presence. Step 4 included one key thing to do—check your own local business listings online.
You want to do this for the following reasons:
ensure your business info such as address and phone are correct
ensure your website is listed
enhance and optimize your listing so you get found more often
keep others from making changes to it! Yes this can happen on some local directories including Google Places. While the local search directories try to do their best to validate and authenticate changes, don't leave this to chance.
Claiming these listings isn't hard but it can be tedious and sometimes frustrating for someone who doesn't do it all the time. You may want to hire someone to do this for you.
But even with limited time, you can get a jump start on everything by following these steps. In Part 2, we'll discuss tips for listing optimization as well as go into a little more depth about how local search works.
1. Gather company details
If you are handing this task off to an assistant, intern, marketing firm or neighbor's kid, arm them first with important company details. Some key company info that most directories ask for:
address: Use a street address—no P.O. boxes if you can help it. Local search works off of your locally based information such as your physical location.
main local phone number: Don't use a toll free number as your main listing number if you can help it. Again, local search depends on information that tells the engines where you are locally. An area code does that—at least for now.
keywords you want to be found for such as "hair salon boca raton" or "french bakery orlando." The trick is to think about how a prospective customer might search for your type of business.
250 words about your company: Each directory has its own cap on how much you can say but 250 words should give you enough to tailor content for each directory. Make sure to include your chosen keywords in this copy and avoid superlatives and market-speak. If you write "exceed customer expectations" we will find out and hunt you down!
general business info: such as forms of payment you accept, hours you do business, languages (other than English), professional affiliations and/or brands carried.
company website: If you have a page on your site that is all about your local establishment, point to that rather than the home page of your site. For example, if you have several locations which all share the same website, you are allowed to create a local listing for each location. You will have a better chance of ranking in local marketing search if each listing goes to a page that has specific information abut that location on it, rather than having all listings go to the home page of your website.
company email address: Create an email address just to use for people who want to contact you from these listings. Don't post your own personal business email address.
2. Gather company visual assets such as photos, logo, even YouTube links
Real estate agents, doctors, lawyers, insurance agents, etc…headshots are perfect to include. If you're an architect, graphic designer, hair salon, etc, why not include a few "portfolio" shots. (Get all necessary permission from clients first!) If you have videos on your company YouTube channel, Google Places allows you to include links to those as well. Especially with Google Places, the more fleshed out your local listing, the better chance you have to rank.
3. Check your current status with the main local listing services
Start with GetListed.org, a free service that lets you see at a glance what local directories you are listed in but have not claimed or what directories you are not found in. It covers the major three: Google, Bing and Yahoo and then some.
Example of a GetListed.org dashboard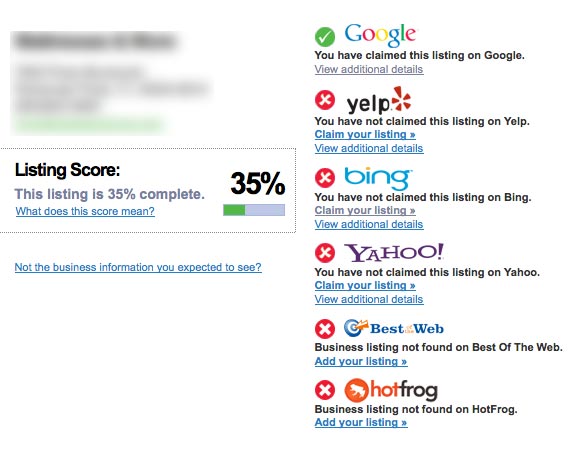 If you create an account (it's free) you can save your dashboard to make it easy to return and check your status. Very important: if you are not seeing the info that you think you should, either in your address information or listing status, follow GetListed's instructions for doing an advanced search. You may have multiple listings out there that vary just in a phone number and you will get different results. The longer you have been in business, the more likely this will be the case.
Now that you have this dashboard, you can begin to click on the links to either add or claim your listings. Even if you find the listing has a wrong address, claim it anyway. That way you can edit it or get it purged from the directory if necessary. The goal is to clean up your listings so that only the correct ones remain. The correct ones are then those you want to optimize.
4. Start with Google Places, then Bing and Yahoo
Working these three takes a little time as they require verification either by phone or mail. Getting the Google PIN verification number by mail can take up to 10 business days. Depending on your listing, you may be offered the option for a phone verification. For obvious reasons, phone verification must be done from the number in the listing.
Google is the easiest of the three to deal with. We have found Bing to take a little while to show your listing even after you complete the verification process, sometimes 30 days. While you need an account in all three places to create, edit and/or claim listings, only good old Yahoo requires a yahoo address (at least as of this writing). We recommend you use a single email address for all other listings. This should be an email address that you check regularly so that you can receive notifications from the services when necessary. You should also add this address as your secondary email address to your Yahoo account.
Important: Create your own Google, Bing and Yahoo accounts and pass that information to the person handling your listings if you are not doing it yourself. Do not let someone place your listing under their own personal account.
Most of the time you can use the GetListed dashboard to access the various services. But from experience, sometimes it's just helpful to have the following links handy—especially for Bing and Yahoo as they don't make it easy to find these links via the account profile.
In our next post about local listings, we'll explain how local search works and how to optimize your listings.