Think About Your Business' Website Like an SEO Expert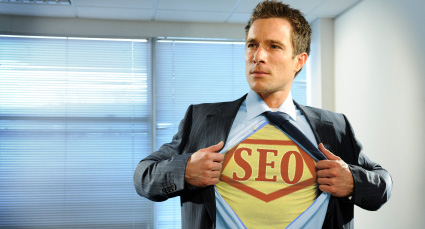 Whether you're preparing to create a new site or overhaul an existing one, it's important to not start at the graphic design phase. Yes, you heard me. Design is not the first step to creating a successful website.
Yeah, we know it's the sexy part of website development but you have to think of graphic design as if it were interior decorating. Paint, carpeting and knickknacks make a home inviting and impart a certain feel, but they are never the first step in the building process.
Websites are really no different. In fact, there is a whole group of people called "Information Architects" who work on "Information Design," mapping out the site, before a designer chooses a color or a developer writes a line of code. So where does the SEO come into this…we'll get to that I promise.
One tool that IAs use to map out a site is, funny enough, called a sitemap. These "sitemaps" can be a bit daunting if you are not used to them. It can be hard to imagine a site from a group of squares and lines. So don't try. We find that our clients always get hung up trying to imagine how their site will look from a diagram like this:
But this diagram is not intended to give you an idea of what the finished site will look like, just like blueprints don't really tell you what a house will look like. What both do is tell you what's included and how those elements are related.
How site structure plays into SEO
Okay, now on to the SEO part. Sitemaps are really great for figuring out how to group your site content in a way that is meaningful to both your visitors and search engines. The search engines will have a much easier time understanding what your site is about and how relevant it is to a search term, if it "understands" the structure of your site.
And that means you have to have a well defined structure. This is where it gets tricky. Figuring out how to organize what your business does is not always straightforward. There are many choices to make [see chart below]. It's this "structure" that should give you nice looking urls that are formatted like this: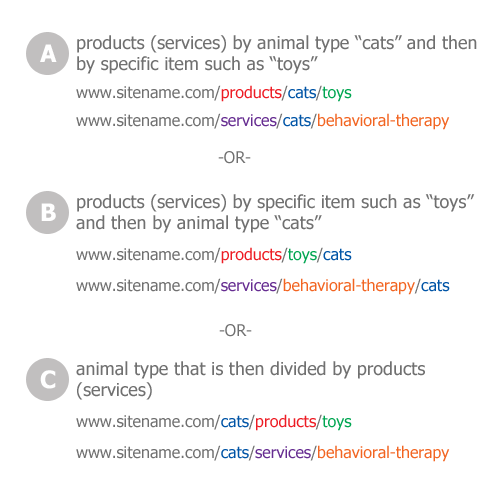 If you discover that "behavioral therapy pets" is a particularly popular search term, you may  chose option "B" because then  you will end up with a single page that you can target for that keyword.
You could still do that with Option A or C but it won't be as precisely targeted since your site is structured so that behavioral therapy is associated with "cats" not with the more general "pets." Focusing a page on one idea and targeting it for a one or two keywords is the goal.
Don't forget your page titles
The url though is only one consideration. Sometimes your Content Management System (CMS) won't allow for such finely controlled URLs. You still can think like an SEO expert by considering your "page titles." In fact "page titles" can be even more important than URLs for a search engine to decide how relevant your page is for a search term. The more relevant  and popular your page, the higher the search engine will rank it in its results page, also known as a SERP (Search Engine Results Page).
What is a page title? Move your eye to the very top of your browser window. See where it says: Structure your site for SEO? That's the "page title." Closely align these with the content on your pages and your URLs and you are on the way to optimizing the pages on your site. So you do have to consider the site's structure and page groupings to make this alignment work.
Putting it all together
Let's take a real world example using a fictitious real estate company, We Find Space. We Find Space sells and rents commercial properties that includes spaces for offices and retail business. Eighty-five percent of their properties are in three cities: Greensville, Redton, and Bluebell. They would like to try to rank high on the SERPs for keywords such as Greensville office space, Greensville executive suites, Bluebell retail space and commercial real estate Redton, just to name a few.
Currently this is how their main navigation reads:
home | properties | about | contact us
Under properties, they have subpages for: Bluebell, Greensville, Redton. On each one of these pages, they display their available listings in that area.
All page titles say this: We Find Space – Commercial Real Estate – Greensville, Redton, Bluebell
Here is how they might rethink their site.
Change their main navigation to read like this:
home | office space | executive suites | retail space | properties for sale | about | contact us
Now they have separate pages that they can target for the keywords they seek: office space, executive suites, retail space. In reality people are more likely to look for the type of space they want and then the location. So while their initial site navigation targeted the locations, it did not do a good job of targeting the type of space. [Note: Executive Suites could also be listed as a subpage of "office space"—it really depends on how much the business wants to highlight a particular type of office space.]
Page titles and URLs could read like this:
[For the home page] Commercial Real Estate – Redton, Greensville, Bluebell – We Find Space
www.wefindspace.com
Office Space – Affordable, Amenities Included – We Find Space
www.wefindspace.com/office-space
Retail Space – Retail Properties for Lease – We Find Space
www.wefindspace.com/retail-space
Note that the company's name is last in the page title as it is the least important search term. The most important term(s) go first.
Okay, now how to target those locations? Perhaps you've guessed by now that optimally we would like the page  "office space" to include keyword rich content on the page that mentions the keyword "office space" and similar terms such as "office suites" or "offices for lease." This content should include links to a page that is all about Greensville office space and a page that is all about Bluebell Office space. This content is all in addition to the actual property listings and property search form. Property listings can be on the same page as this additional content.
So you would end up with links to:
Greensville Office Space – Offices for Rent – We Find Space
www.wefindspace.com/office-space/greenville
Bluebell Office Space – Offices for Rent – We Find Space
www.wefindspace.com/office-space/bluebell
Of course this is a very limited, simple example. Otherwise this post would be 25 pages long. But this should give you some clues of how to look at your own site content and look for ways to "silo" your content to create pages that are very focused on one or two themes and can be easily targeted for specific keywords.